A PRODUCT PACKAGING DESIGN COMPANY IN AHMEDABAD THAT SPEAKS YOUR BRAND'S MESSAGE
As they say, "Think beyond the box," but when it comes to packaging design, we need to start thinking of the box first which describes the beyond. Good sales are indirectly the result of well-designed packaging that represents the brand and promises to provide clients with a high-quality experience.
Vox Plus, a notable packaging design agency in Ahmedabad, assists in making a positive first impression of your product and strengthening the relationship between your company and its clients or customers. Our imaginative Vox Plus team creates complete package solutions and transforms brand concepts into eye-catching packaging by taking into account the company's following aspects:
Product's features
Colours that are meaningful along the idea
Dimension details
Brand Story
OUR APPROACH AND THE ASPECTS WE KEEP IN MIND WHILE BEING A PACKAGING DESIGN AGENCY IN AHMEDABAD
As one of the top product packaging design agencies, our mission is to deliver the best packaging solutions in the rapidly evolving dynamic branding and marketing industry through continuous advancement and determined perseverance. We debate, create, develop, and deliver packaging solutions for all types of businesses, whether they are just starting off the ground or thriving. Our services include box packaging, paper bags, bottles, labels and stickers, seal bags, and bespoke packaging design services according to your needs.
Our packaging design agency in Ahmedabad provides packaging services that instill an emotional connection with clients by weaving a narrative to communicate the brand message to the audience. Our packaging designs are infused with the ideal balance of 'how it looks' and 'what it holds'.
"Give your product a uniquely designed packaging that balances two aspects – beauty and functionality!"
The following 4Ds are inculcated in our packaging design services
For every brand and business, our packaging design agency in Ahmedabad offers complete packaging design solutions. With our unmatched branding solutions— be it any product, ceramic, FMCG, cosmetics, or any other industry, or be it B2B or B2C business, we provide custom-made packaging solutions accordingly.
Discuss
After understanding the key principles, brand message, customers' products, and researching market trends, creative designers engage in brainstorming sessions to provide fresh ideas.
DESIGN
After the conceptualizing stage is complete, we are free to use our ideas to produce excellent packaging designs that are in line with the client's brand value, product, and audience-engaging message as well as compatible with the product's features.
DEVELOP
Vox Plus creates incredibly stunning and meaningful graphics that are the ideal addition to your overall brand identity, weaving them into the brand story, key principles, and product features.
Deliver
We offer the designs in a high-resolution web format after taking feedback or reviewing the alteration that the client requires. Let your brand's products fly in the cutthroat market with our captivating packaging design services.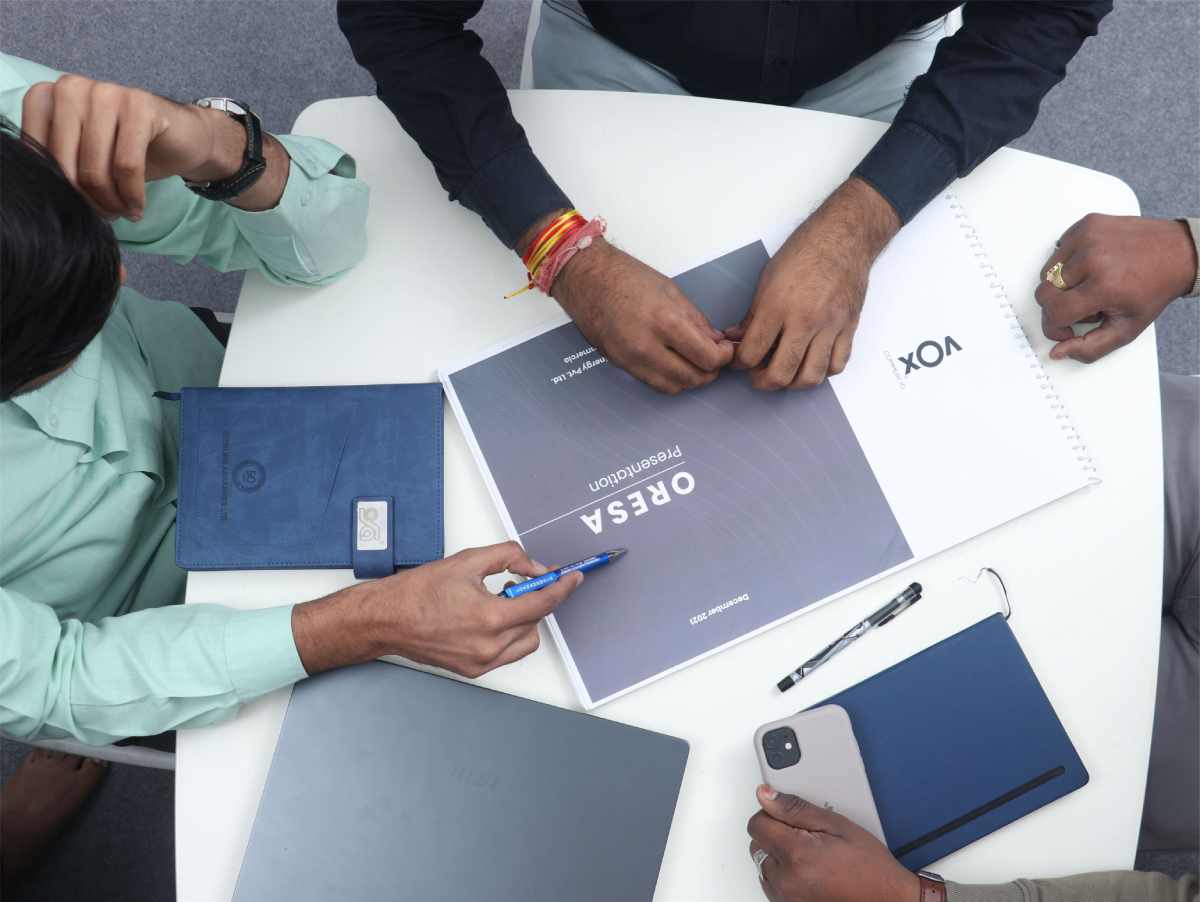 "From package concepts to packaging printing, Vox Plus has all the effective strategies to raise your brand product's outlook to the next level."
"VOX PLUS'S STRONG PILLARS ARE OUR DEDICATED AND ENTHUSIASTIC TEAM OF DESIGNERS, ILLUSTRATORS, PHOTOGRAPHERS, AND WRITERS."
01
OUR EXPERTISE AND EXPERIENCE
Vox Plus, an innovative packaging design agency in Ahmedabad, has amassed more than 5 years of expertise in the branding sector by providing efficient branding services to clients from a variety of industries. We are involved in the sector and are aware of its best practices.
02
A RANGE OF HAPPY CLIENTELE
We have served more than 100 clients thus far, all of whom have been incredibly happy with the high calibre of our work. We have constantly outperformed our client's expectations with our rigorous branding services, which are based on the basic values of transparency, honesty, innovation, and trust.
03
IN-HOUSE PROFESSIONAL DESIGNER CREW
You can discover a committed team of designers working around the clock at Vox Plus to create the most cutting-edge packaging designs to take your company to the next level. With our premier branding services, we are a group of expert, capable, and expertly experienced oddballs who are setting new standards in the design sector.
04
EQUIPMENT AND CULTURE
Our tight-knit staff is the solid base of our firm, which is an exponentially expanding packaging design business. Unlike the typical corporate structure, our creative artists and designers enjoy complete flexibility in their work, and this innovative culture fosters the development of fresh innovations!
OUR ROLE AS A PRODUCT PACKAGING DESIGN COMPANY IN AHMEDABAD IS TO BRING YOUR PRODUCT TO THE LIMELIGHT IN A SUPERMARKET
At Plus, we believe that good packaging is a beneficial asset for the business. As a bunch of design-obsessed nerds, we understand the art of packaging design created with every passionate stroke by our artists.
Packaging design isn't solely based on the looks of the product package. Instead, a perfect blend of form and functionality needs to be maintained to make exquisite packaging. As a numero uno brand consultant agency, we are very mindful of this crucial reason. And we aren't loved by our clients for no reason!
WHAT WE KEEP IN MIND TO BRING EXTRAORDINARY PACKAGING DESIGNS SERVICES
Our product package design agency's 'OUT OF THE BOX' designers make sure the following while designing:
The target market is well-represented and focused on product packaging.
Our designs are for the present but futuristic too!
To have the packaging design reflect your business name, logo, and brand values.
Our packaging options effectively accomplish the client's requirements and goals.
To publish all of the necessary product information for the end consumers.
To provide our services at reasonable prices. No surprises in plain sight from our end!